Mindfulness Meditation May Help Relieve Chronic Inflammation
If you or anyone you know suffers from some type of chronic inflammation, a recent study shows that practicing mindfulness meditation can provide much-needed relief better than other stress-reduction techniques.
People suffering from chronic inflammatory conditions, such as rheumatoid arthritis, inflammatory bowel disease and asthma — in which psychological stress plays a major role — may benefit from mindfulness meditation techniques, according to a study by University of Wisconsin-Madison neuroscientists with the Center for Investigating Healthy Minds at the Waisman Center.

The study compared two methods of reducing stress: a mindfulness meditation-based approach, and a program designed to enhance health in ways unrelated to mindfulness.

The comparison group participated in the Health Enhancement Program, which consisted of nutritional education; physical activity, such as walking; balance, agility and core strengthening; and music therapy. The content of the program was meant to match aspects of the mindfulness instruction in some way. For example, physical exercise was meant to match walking meditation, without the mindfulness component. Both groups had the same amount of training, the same level of expertise in the instructors, and the same amount of home practice required by participants.

Using a tool called the Trier Social Stress Test to induce psychological stress, and a capsaicin cream to produce inflammation on the skin, immune and endocrine measures were collected before and after training in the two methods. While both techniques were proven effective in reducing stress, the mindfulness-based stress reduction approach was more effective at reducing stress-induced inflammation.

The results show that behavioral interventions designed to reduce emotional reactivity are beneficial to people suffering from chronic inflammatory conditions. The study also suggests that mindfulness techniques may be more effective in relieving inflammatory symptoms than other activities that promote well-being.
See full story on scienceblog.com (Image courtesy of scienceblog.com)
Interested in learning how to do mindfulness meditation? Basic instruction on the practice is provided in the video below.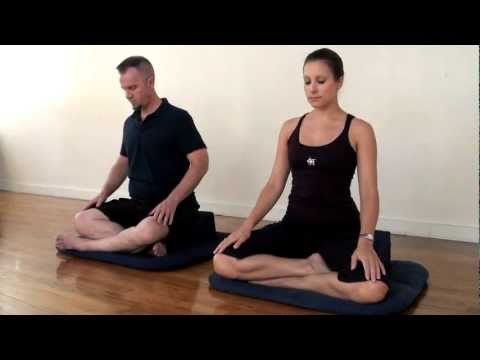 David Nichtern, a senior teacher in the Shambhala Buddhist lineage of Chogyam Trungpa Rinpoche and Sakyong Mipham Rinpoche, presents a basic introduction to the practice of Mindfulness Meditation. Mindfulness meditation is a wonderful and ancient remedy for the stress and anxiety of modern life. It can help us develop strength, clarity, and stability in our mind, and also help us to live in a less distracted, more wakeful and productive way. Watch video.
See all posts on Meditation and Health